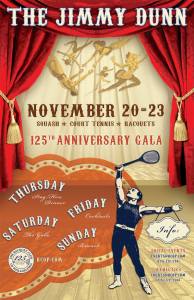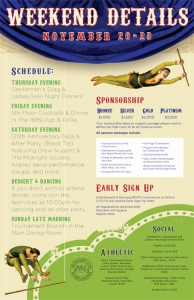 SATURDAY EVENING DINNER TICKETS ARE SOLD OUT!  A limited number of Dessert & Dancing tickets remain. Contact events@rcop.com.
Thursday, November 20th – Sunday, November 23rd, 2014
The Racquet Club of Philadelphia cordially invites you to the 34th Annual Jimmy Dunn Tournament Weekend and the 125th Anniversary Gala this November 20th – 23rd, 2014. Please join us in celebrating this momentous occasion (and our newly renovated Court Tennis court!) as we reflect on the club's history and look ahead to a bright future.
Weekend highlights include:
• Thursday Evening Gentlemen's Stag & Ladies' Hen Night Dinners
• Friday Evening Cocktails & Dinner in the 1889 Pub & Grille
• Friday & Saturday Lunches
• Saturday Evening 125th Anniversary Gala & After Party (Black Tie) featuring Drew Nugent & The Midnight Society, Airplay aerial performance troupe, and more!
• Sunday Brunch
Tournament draws:
Please submit your entry form by Friday, November 7th to courts@rcop.com. Entries in the draws will be allocated in order of receipt of completed forms.
Court Tennis
Play begins on Thursday. Local players begin matchplay on Wednesday.
Round Robin Doubles – Open (0-12), A (13-20), B (21-30), C (32-42), D (43-55), and E (55+) Divisions
Racquets
Play begins on Thursday at 12pm. Local players begin matchplay on Wednesday.
Jock Soutar Singles & Doubles, Murray Sales Cup 40+, Tom Price Cup 50+, Denis Walsh Cup 60+
Squash
Play begins on Friday at 4pm.
Squash Doubles Divisions: Open, B & 40+
Squash Singles Divisions: A, B, C, D
This year we are offering Sponsor Packages, Player Packages, Social Packages, and discounted Early Sign Up tickets for the 125th Anniversary Gala and Dessert & Dancing.
CANCELLATIONS MUST BE MADE BY MONDAY, NOVEMBER 17TH, 2014 TO AVOID A CHARGE.
Early Sign Up
Gala/Dessert & Dancing RSVP's received on or before 11/07/14 will receive Early Sign Up rates. All registrations received after that date will receive regular rates.Guest rooms may be booked through our website (
www.rcop.com
) or by contacting Devron Owens at the front desk (
frontdesk@rcop.com
) or 215-735-1525.
125th Anniversary Gala dinner tables may be reserved in advance. Tables seat 10-12. Please contact
events@rcop.com
if you wish to organize a table for dinner.